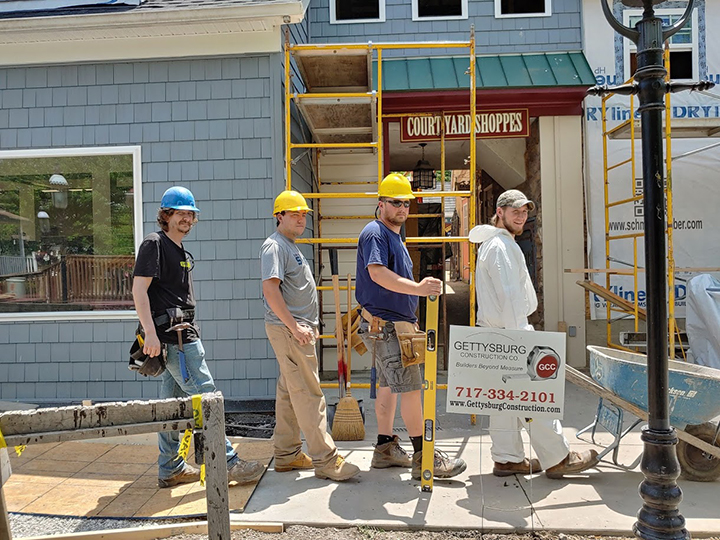 Gettysburg Construction Co.
Meet the Staff
We have a highly capable leadership team and a talented staff of in-house carpenters and laborers. Plus, we have a remarkably good working relationship with subcontractors of all trades.
. . . . . . . . . . . . . . . . . . . . . . . . . . . . . . . . . . . . . . . . .
Owner/CEO: Dave Lamberson
Davel@gettysburgconstruction.com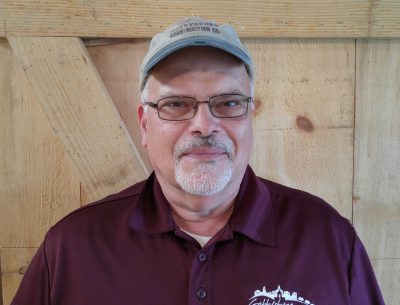 Dave Lamberson grew up in Huntingdon County Pennsylvania and after a childhood spent building treehouses, forts and damns (to make swimming holes in the creek on his Grandfather's Farm), building became deeply rooted in his nature, along with the idea of reuse and recycling.
Dave graduated from Penn State with a B.S. in Engineering Technology (1978) and started out in a management position with a national contractor where he was lucky to be mentored by highly skilled people on many large projects. By his mid-thirties, Dave held a variety of positions with a company with revenues of $12 million annually that quickly rose to $25 million. At this time, Dave was setting up projects and assigning the right project managers and superintendents, along with their crews, who would execute the work with skill, attention to detail, and in a timely manner.
In Dave's most recent position, before acquiring Gettysburg Construction, he was a pre-construction manager for a construction management/general contracting firm whose revenues averaged $200 to $250 million annually. In his capacity at this firm, he was instrumental in estimating a wide range of building types, including commercial, military, wood, concrete, mixed use, and steel frame along with 20-50 acre site developments. Dave's gained experience estimating services for a wide variety of product types. He is also familiar with working on numerous projects that are tasked with tight deadlines and fast-track schedules. This includes multiple Design Build and Design Assist Projects that provide a single source for Owners to achieve their end product at a pre-determined price point.
In October of 2013, Dave, a successful Mid-Atlantic construction executive with roots in Pennsylvania, decided to buy Gettysburg Construction Co. from Wayne Hill, President. Over the last 35 years, Dave has been involved with a broad variety of construction projects including projects for the Smithsonian, the National Zoo, the Army Corps of Engineers, over 100 jobs for the government, several mission critical projects, many healthcare projects, and more than 7,000 units of residential projects including market rate and affordable apartments, dorms, senior housing and assisted living. With his extensive experience Dave has successfully lead Gettysburg Construction Co. into a new, challenging and exciting growth phase.
Dave realized, after meeting Wayne Hill and understanding the history of Gettysburg Construction Co., that it was a company he wanted to be a part of since he felt he could build on its stable and successful foundation. He started his career with contractors who did a high percentage of work in-house which is also the case at Gettysburg Construction Co.
Dave has always found clear benefits to working closely with in-house crews and subcontractors to keep projects tight. Key benefits such as having more control over schedules and being more in touch with methods that work best for the owners. Dave brings a "can do" attitude to the company, working through obstacles and completing projects on time and within budget. And his notable project management, estimating skills and design build knowledge provides for the unparalleled execution of projects. With Dave's expertise in working closely with owners and design-teams, Gettysburg Construction Co. will continue to be builders beyond measure.
. . . . . . . . . . . . . . . . . . . . . . . . . . . . . . . . . . . . . . . . .
Accounting Manager/HR/Administrator: Becky Tims
beckyt@gettysburgconstruction.com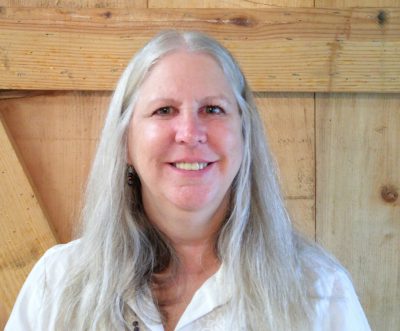 Becky Tims is the highly qualified Accounting Manager/HR/Administrator for Gettysburg Construction Co. During her career, she has held various positions including Chief Financial Officer, Administrative Manager, Accounting Supervisor, Office Manager, Bookkeeper, and Receptionist in various industries.
Prior to working at Gettysburg Construction Co., Becky was a Chief Financial Officer for a well-established, top 25, Architectural firm located in Baltimore, MD. She played a key role in the successful merge of two firms and was responsible for all accounting, finance and human resource functions. She was highly regarded in her role as CFO for overseeing multiple roles and helping the firm double in size during her 10 year tenure.
Becky started her accounting and administrative career at a small ice cream company. The small company became a national brand during her 18+ years with them. Becky wore many hats over the years. She was an Accounting Supervisor responsible for supervising a billing staff of eight, coding payables, monthly journal entries, and financial reporting. As a billing software "superuser", she supported other regions through training and fielding questions from billing staff while providing handheld computer support and system updates for the distribution employees. In this capacity, and as having been elected for several growth-related task forces, Becky traveled regularly, working with teams in all capacities to achieve common goals. She received several awards, one of them was a national award for the successful training and public relations efforts which aided in the growth of the firm.
Becky Tims graduated from Carroll Community College in 1999 with an associates degree in Arts and Sciences and she is also a 2006 Leadership Carroll graduate. She is a member of the Gettysburg Adams Chamber of Commerce. Becky is a professionally trained floral designer and published poetry author. She loves nature, flowers, reading, camping, staying at B&B's and taking long walks with her husband (her high school sweetheart) and their Catahoula Leopard dog named Belle.
. . . . . . . . . . . . . . . . . . . . . . . . . . . . . . . . . . . . . . . . .
Site Manager: Zach Skiffington
zachs@gettysburgconstruction.com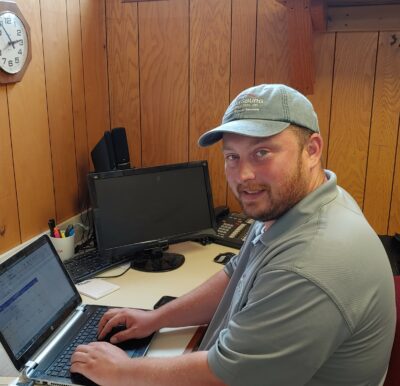 Zach has been with Gettysburg Construction Company for 5 years. Prior to being employed with Gettysburg Construction he managed 5 different Hardware Stores. Zach has worked his way up and currently holds the position of Site Manager. Zach's strengths include strong customer service, problem solving skills, communication and teamwork.  Zach is married and has two adorable children, and another one is on the way.